Other Books
Writings on the Commons
Silke Helfrich and David Bollier are both prolific writers. The following page contains a selection of works written individually or in collaboration with other authors and published outside of the Commons Strategies Group canon. As always, these relate to the Commons and its real world applications.

Silke Helfrich
Books on the Commons
Who Owns the World? The Rediscovery of the Commons
oekom 2009
International interest in the commons continues to grow, spurred in no small part by new books like this latest one from Germany. Who Owns the World? The Rediscovery of the Commons, has now been published by oekom Verlag in Berlin. (The German title is Wem gehört die Welt – Zur Wiederentdeckung der Gemeingüter.) The book is an anthology of essays by a wide range of international authors, including Elinor Ostrom, Richard Stallman, Sunita Narain, Ulrich Steinvorth, Peter Barnes, Oliver Moldenhauer, Pat Mooney and David Bollier.
Who Owns the World? has been well-received since its launch. For those who can read German, a website about the book – with ordering information — can be found here. A free download of the book – under a Creative Commons Attribution-NonCommercial-No Derivatives license – can be found here.
---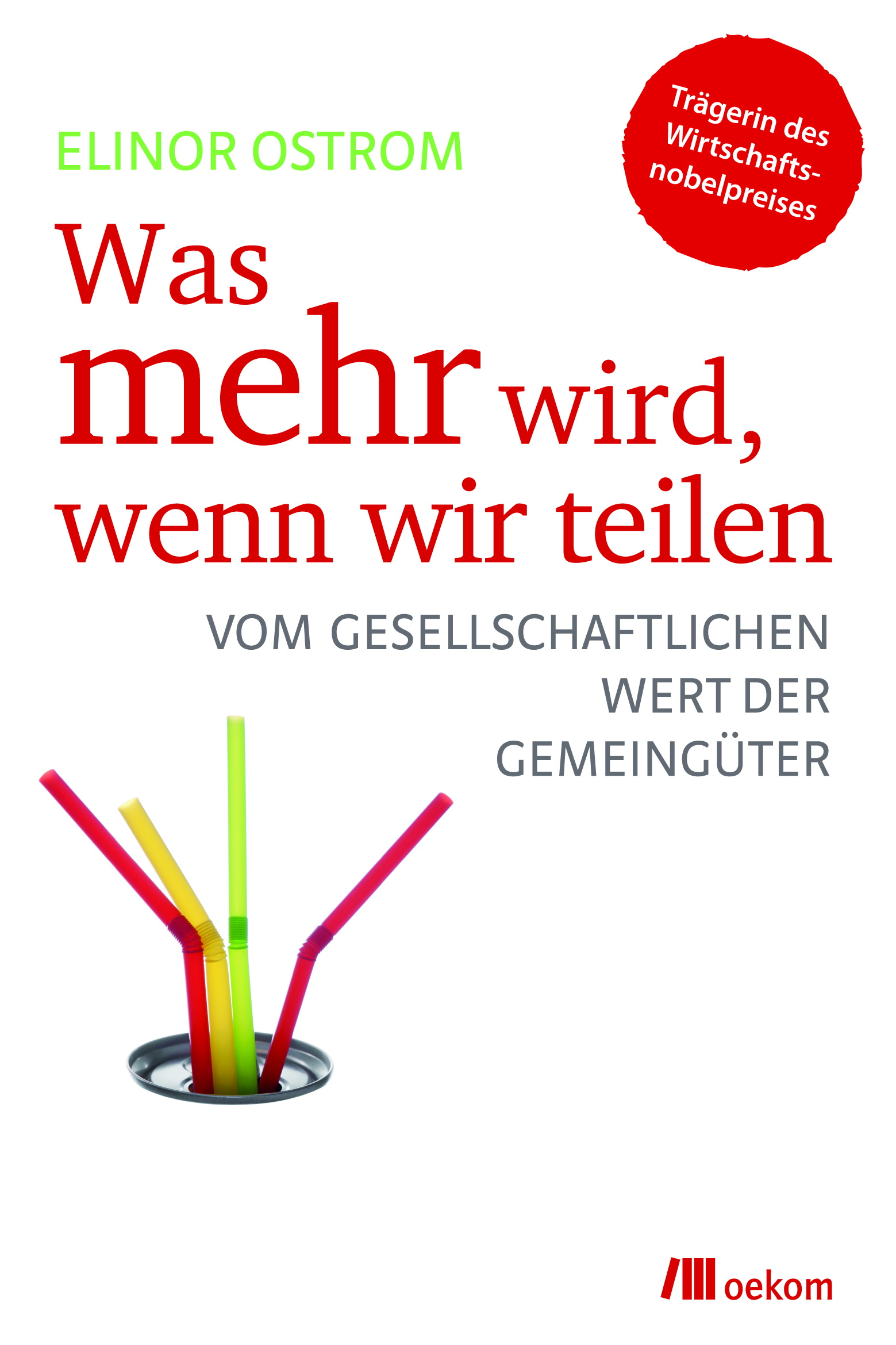 Elinor Ostrom: What is more , if we share : the social value of the commons
oekom 2011
What the atmosphere and the public space have water and knowledge, have in common? They belong to the held for granted conditions of economic and social life. But as important as these are so-called commons for our common well-being, so low its value is estimated: they are privatized or destroyed and go society increasingly lost. Elinor Ostrom, winner of the Nobel Prize in Economics and one of the most commons-researchers, this development is an example of the forests, the oceans and the atmosphere on the ground. She is not content with a problem description.
Based on decades of research point to the contrary, how it is possible to deal with shared things so that all people can meet their needs in the long term. For this purpose, it is particularly important to awaken creativity and promote communication. When people involved in solving the problems affecting their immediate lives, both will succeed.
Read more here (German)
---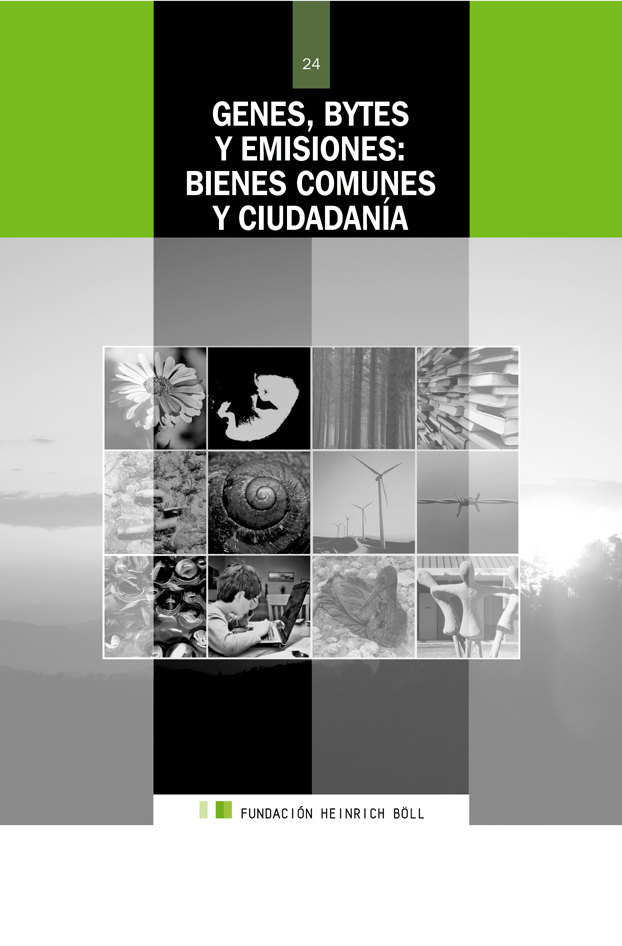 Genes, Bytes and Emissions: Common Good and the Citizenry
Heinrich Böll Foundation 2008
Featuring contributions from Elinor Ostrom, Richard Stallman, Yochai Benkler, Leticia Merino, Sunita Narain, and David Bollier among others, Genes, Bytes and Emissions:Common Good and the Citizenry is an important addition to the growing international dialogue on the commons.
The book was edited by Silke Helfrich and published by the Heinrich Böll Foundation. Helfrich is a former director of the Foundation's Mexico City office, which hosted the Citizenship and Commons conference in December 2006.
Read more here (Spanish)
David Bollier
Books on the Commons
The Commoner's Catalog for Changemaking
December 2021. A guide to the wide range of commons projects, people, books, organizations, and websites building a new world.
The Commoner's Catalog for Changemaking was born of a simple realization: The world we have inherited is no longer working. The future of the planet and civilization as we know it are threatened, and the cries heard during the pandemic and Black Lives Matter protests — "I can't breathe" — continue to echo.
This catalog is designed to help us breathe more deeply by showing how we can navigate some difficult transitions ahead. In profiles of dozens of pathbreaking projects, books, websites, and activist initiatives, we learn how we can prioritize people's needs over market extraction, steward the earth, relocalize the economy, and build new institutions of empowerment.
The Commoner's Catalog for Changemaking explains the transformational power of social collaboration — in agricultural commons and digital spaces, in care collectives and gift economies, in urban settings and finance, among many other realms.
Future transitions will require creativity and persistence, to be sure. But the pioneering commoners featured in this Catalog point the way towards an economics of sufficiency, a politics of fairness, and a culture of belonging.
---
The Great Awakening: New Modes of Life Amidst Capitalist Ruins
Punctum Books, 2020. Ten essays about the crises of neoliberal capitalism and alternatives in commoning that are being developed.
As we enter a time of climate catastrophe, worsening inequality, and collapsing market/state systems, can human societies transcend the old, dysfunctional paradigms and build the world anew? There are many signs of hope.
In The Great Awakening, twelve cutting-edge activists, scholars, and change-makers probe the deep roots of our current predicament while reflecting on the social DNA for a post-capitalist future. We learn about seed-sharing in agriculture, blockchain technologies for networked collaboration, cosmolocal peer production of houses and vehicles, creative hacks on law, and new ways of thinking and enacting a rich, collaborative future. This surge of creativity is propelled by the social practices of commoning new modes of life for creating and sharing wealth in fair-minded, ecologically respectful ways.
---
Think Like A Commoner:  A Short Introduction to the Life of the Commons.
March 2014. A succinct popular introduction to the Commons.
In our age of predatory markets and make-believe democracy, our troubled political institutions have lost sight of real people and practical realities. But if you look to the edges, ordinary people are reinventing governance and provisioning on their own terms. The commons is arising as a serious, practical alternative to the corrupt Market/State.
The beauty of commons is that we can build them ourselves, right now. But the bigger challenge is, Can we learn to see the commons and, more importantly, to think like a commoner?
The biggest "tragedy of the commons" is the misconception that commons are failures — relics from another era rendered unnecessary by the Market and State. Think Like a Commoner dispels such prejudices by explaining the rich history and promising future of the commons — an ageless paradigm of cooperation and fairness that is re-making our world.
With graceful prose and dozens of fascinating examples, David Bollier describes the quiet revolution that is pioneering practical new forms of self-governance and production controlled by people themselves.
We have a choice: Ignore the commons and suffer the ongoing private plunder of our common wealth. Or Think Like a Commoner and learn how to rebuild our society and reclaim our shared inheritance. This accessible, comprehensive introduction to the commons will surprise and enlighten you, and provoke you to action.
---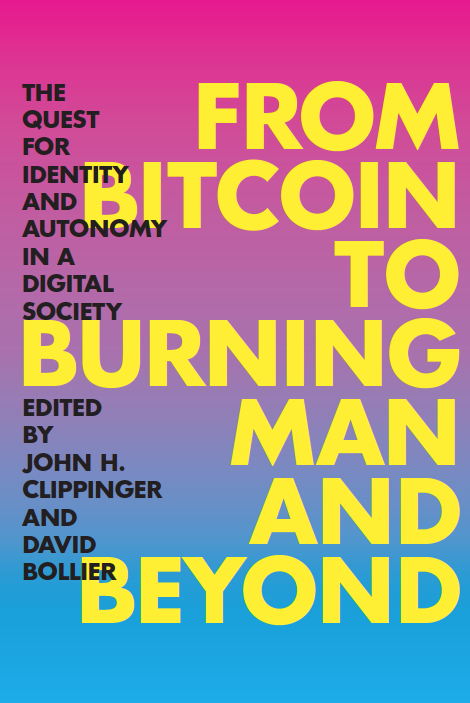 From Bitcoin to Burning Man and Beyond: The Quest for Identity and Autonomy in a Digital Society.
ID3/Off the Common Books, 2014. Co-edited with John H. Clippinger. A collection of 15 essays on new software systems for digital self-governance, identity authentication and commons.
From Bitcoin to Burning Man and Beyond: The Quest for Autonomy and Identity in a Digital Society explores a new generation of digital technologies that are re-imagining the very foundations of identity, governance, trust and social organization.
The fifteen essays of this book stake out the foundations of a new future – a future of open Web standards and data commons, a society of decentralized autonomous organizations, a world of trustworthy digital currencies and self-organized and expressive communities like Burning Man.
Among the contributors are Alex "Sandy" Pentland of the M.I.T. Human Dynamics Laboratory, former FCC Chairman Reed E. Hundt, long-time IBM strategist Irving Wladawksy-Berger, monetary system expert Bernard Lietaer, Silicon Valley entrepreneur Peter Hirshberg, journalist Jonathan Ledgard and H-Farm cofounder Maurizio Rossi.
From Bitcoin to Burning Man and Beyond was edited by Dr. John H. Clippinger, cofounder and executive director of ID3, and David Bollier, an Editor at ID3 who is also an author, blogger and scholar who studies the commons. The book, published by ID3 in association with Off the Common Books, reflects ID3's vision of the huge, untapped potential for self-organized, distributed governance on open platforms.
---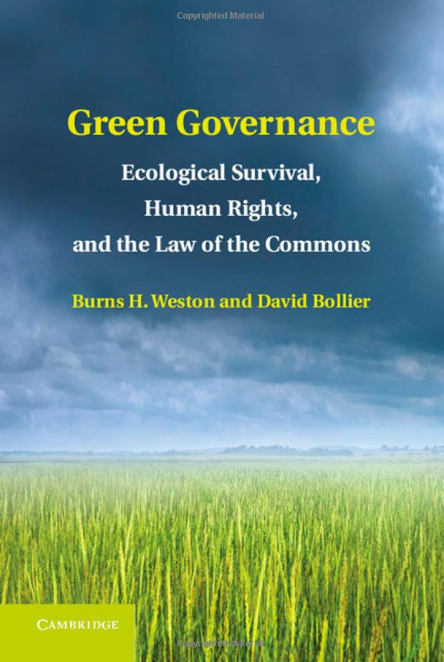 Green Governance:  Ecological Survival, Human Rights and the Law of the Commons
Cambridge University Press, 2013.  Co-authored with Burns H. Weston.
An analysis of the current impasse in addressing environmental problems with a bold proposal that integrates human rights principles, a broader notion of "the economy," and commons-based governance into a new synthesis for ecological stewardship.
The vast majority of the world's scientists agree: we have reached a point in history where we are in grave danger of destroying Earth's life-sustaining capacity. But our attempts to protect natural ecosystems are increasingly ineffective because our very conception of the problem is limited; we treat "the environment" as its own separate realm, taking for granted prevailing but outmoded conceptions of economics, national sovereignty, and international law. Green Governance is a direct response to the mounting calls for a paradigm shift in the way humans relate to the natural environment. It opens the door to a new set of solutions by proposing a compelling new synthesis of environmental protection based on broader notions of economics and human rights and on commons-based governance. Going beyond speculative abstractions, the book proposes a new architecture of environmental law and public policy that is as practical as it is theoretically sound.
---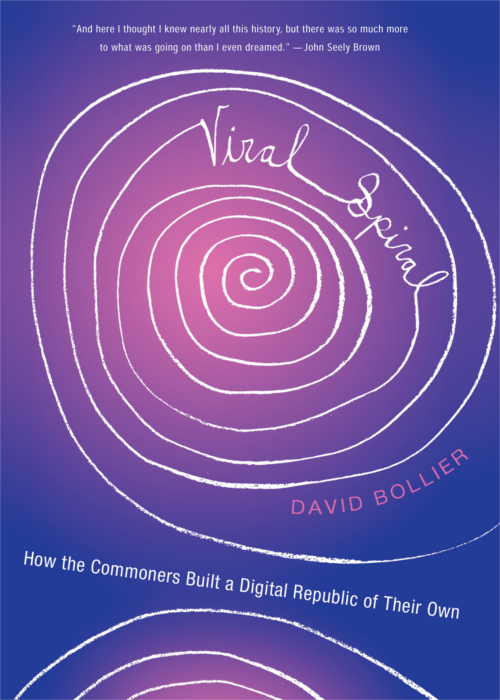 Viral Spiral:  How the Commoners Built a Digital Republic of Their Own
New Press, 2009.
A contemporary history of free software, Creative Commons licenses, free culture and the commons as a sector of value-creation on the Internet.
From free and open-source software, Creative Commons licenses, Wikipedia, remix music and video mashups. peer production, open science, open education, and open business. the world of digital media has spawned a new "sharing economy" that increasingly competes with entrenched media giants.
Reporting from the heart of this "free culture" movement, journalist and activist David Bollier provides the first comprehensive history of the attempt by a global brigade of techies, lawyers, artists, musicians, scientists. businesspeople, innovators, and geeks of all stripes to create a digital republic committed to freedom and innovation. Viral Spiral—the term Bollier coins to describe the almost magical process by which Internet users can come together to build online commons and tools-brilliantly interweaves the disparate strands of this eclectic movement. The story describes major technological developments and pivotal legal struggles, as well as fascinating profiles of hacker Richard Stallman, copyright scholar Lawrence Lessig, and other colorful figures.
A milestone in reporting on the Internet by one of our leading media critics, Viral Spiral is for anyone seeking to take the full measure of the new digital era.
---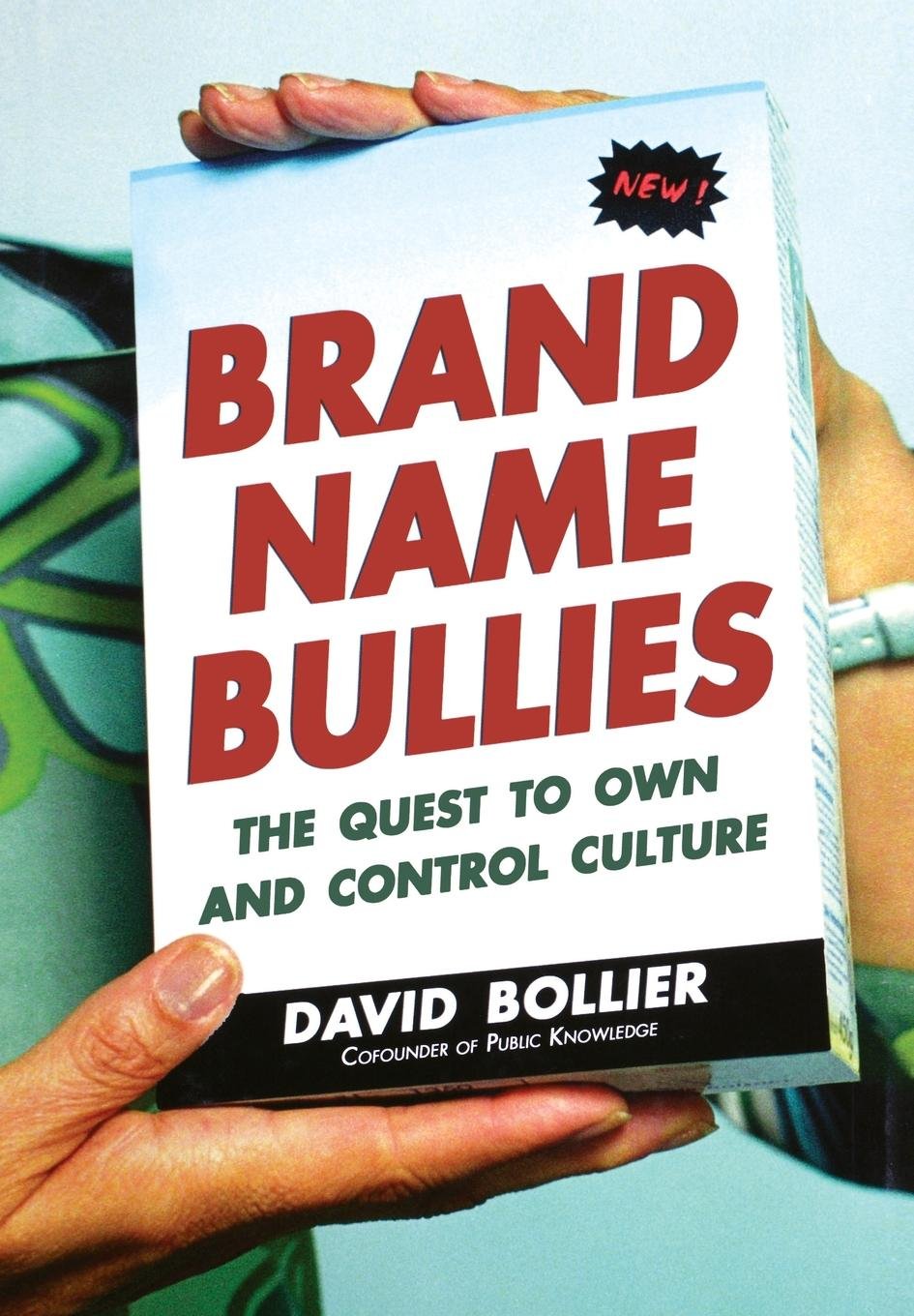 Brand Name Bullies:  The Quest to Own and Control Culture
John Wiley & Sons, 2005.
Stories about how copyright and trademark owners are abusing intellectual property law to stifle creativity, innovation and free expression.
An impassioned, darkly amusing look at how corporations misuse copyright law to stifle creativity and free speech
If you want to make fun of Mickey or Barbie on your Web site, you may be hearing from some corporate lawyers. You should also think twice about calling something "fair and balanced" or publicly using Martin Luther King Jr.'s "I Have a Dream" speech. It may be illegal. Or it may be entirely legal, but the distinction doesn't matter if you can't afford a lawyer. More and more, corporations are grabbing and asserting rights over every idea and creation in our world, regardless of the law's intent or the public interest. But beyond the humorous absurdity of all this, there lies a darker problem, as David Bollier shows in this important new book. Lawsuits and legal bullying clearly prevent the creation of legitimate new software, new art and music, new literature, new businesses, and worst of all, new scientific and medical research.
---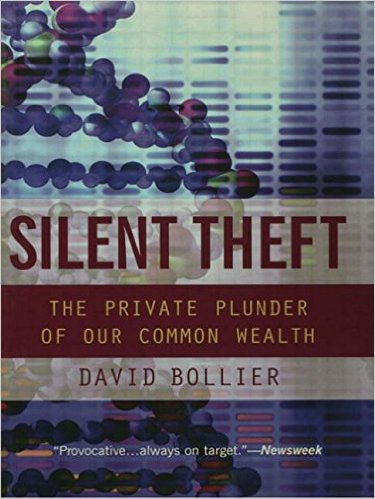 Silent Theft:  The Private Plunder of Our Common Wealth
Routledge, 2002.
An analysis of the commons as a new paradigm of politics, economics and culture that both responds to neoliberalism and offers generative alternatives.
This book describes the dozens of commons in American life that are being rapidly privatized and commercialized. The commons consists of public assets and social management systems. They include public lands and the natural environment, the electromagnetic spectrum, government databases and research, the Internet, academic research and resources, the genetic structures of life, and shared cultural spaces, among many others. The book also outlines various strategies -political, cultural, and social – for reclaiming the American commons.